POLITICAL CONSULTING and GOVERNMENT AFFAIRS
ELECTION DAY VICTORY OR YOUR
MONEY BACK *

politicaldoctors.com
Secure Email: consultant@politicaldoctors.com
Associates of Director Amb. Cantillo invite you to participate in the world of cost effective solutions which make a difference!

P O L I T I C A L C O N S U L T I N G
We create results, campaign simulations and classes, multilingual situation assessments, speechwriting, Teleprompter equipment and training, referendums, new or re-election candidates - specialty P.A.C., Parties and Soft Money Groups

Up to 1 million homes per day worldwide for Telephone Polls - Advocacy - Voter I.D. - G.O.T.V. to enhance your volunteer phone bank. We are the FORCE !

G O V E R N M E N T A F F A I R S
We can arrange for state-of-the-art presentations, introductions, negotiations, management on behalf of our clients engaging heads of state, political and private sector leaders on a global basis.
P U B L IC R E L A T I O N S
International and domestic name recognition development for personal, product or services in just 4 weeks!
Fee paid basis only - International Law Compliant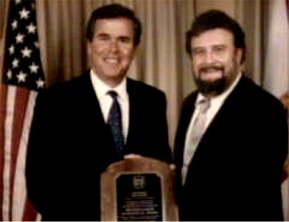 "My family and I thank you so much for your help!"
Florida Gov. Jeb Bush.
"Thanks to Ray and his people. He is my South Florida connection" Lt. Gov. Frank Brogan



Amb.

Cantillo: "Free Trade and Democracy are it! The trouble is

,

leaders worldwide do not have local access to quick unbiased public opinion. We do it for them by breakfast time."

"To know what people think is vital. Knowledge is power and power is money"
Donald Trump.

Robert: "We can contact every prime voter anywhere in the world - MIAMI, BUENOS AIRES, TOKYO OR TAIPEI - AND THAT IN ABOUT 12 HOURS"


President George W. Bush with Amb. R. Cantillo after a speech to the Diplomatic Corps.
"Thank you, Ambassador!"
FOR ADDITIONAL PICTURES CLICK HERE
"WIN YOUR ELECTION OR YOUR MONEY BACK" *
BY ROBERT LEE


THE MAIN EVENT

Soon a most important election will take place, a day at the polls, a date with destiny and voters! A "Win2006" tm, targeted telephone campaign can give you up to 23% advantage points to help you win that day - our work begins today.

MAXIMIZE YOUR VOTER TURN-OUT ON E-DAY

The candidate who maximizes his voter turn-out on election day wins the election. With us voter apathy is a thing of the past!

HOW TO WIN

We will enhance your voter support and/or suppress your opponent's. The bottom line is victory.

ARE THEY VOTING FOR ME?

Consensus building is done through our proprietary "Voter History Database" software which allows us to match candidate/voter profile in the most successful way.

COVERT TACTICAL VOTER CONTACT

Our global phone system with over 1000 phone lines can assist any campaign in the U.S.A. or throughout the world with the necessary timing and logistical voter contacts.

TOP GUNS FOR HIRE **

When available, our director Amb. R. Cantillo and/or a team of Who's Who advisors, University PhDs, fmr. elected officials and aspiring political operatives may be of council. This team wrote the book on TARGETED TELEPOLITICAL SCIENCE AND GLOBAL VOTER OUTREACH. They are America's foremost political strategists and coalition builders with "multinational credits". We invite you to join our worldwide team of consultants!

With 13 years of uninterrupted victories the team may help you map out and/or direct the necessary strategy. You get the credit!

Some of our proudest hours were the # 1 vote-getting campaign in Florida of Frank Brogan, 2000-2001 New York, Miami Dade County/Municipal Mayors plus referendums - as Miami's difficult to pass $ 300 million Bond Issue - and Florida Governor Jeb Bush. Of course, there were George E. and George W. as well as many more victories in the U.S.A. and abroad.

WIN OR YOUR MONEY BACK? *

* If, through a Scientific Political Survey, we determine that you should win an election and have no hidden negatives to make you lose, we will guarantee your success in writing and issue a consulting fee MONEY BACK GUARANTEE if you lose!

** Amb. Cantillo, earliest developer of tele - technologies, invented the "Truant System" used in every school in the U.S.A. Also the "Electoral Grid positioning System" Later he successfully applied his telephone technologies to the political arena securing new alliances while in the process of electing honest and decent public officials (Philadelphia Inquirer, San Jose Mercury News, The Miami Herald)

* Only in the U.S.A.

"Non-Disclosure Campaign Confidentiality Agreement".

Ask us for a free consultation today!

CALL ANDREA 1-305-807-2012


Why should you deal with us?

Because if we give you exclusivity you win, if we go against you, you lose! We are the FORCE of strategic, state-of-the-art, house to house search to identify your supporters and then remind them all before dinner, hours before the election, or before breakfast on election day, WHO TO VOTE FOR OR AGAINST!

Finest client list of winners (97%) in the business!

Being global we have a representative near you! Today we are the world's most potent, interactive voter outreach organization.


Political Doctors will be at :
* U.S. Senatorial elections
* U.S. House of Representatives elections
* U.S. Gubernatorial elections
* County and City elections
* Judicial elections
* European elections
* Caribbean elections * Peruvian elections * Mexican elections and all future worldwide elections.
Copyright Material
2006 Update
Powered by Hughes Tech


Warning: Reproduction in whole or in part of this user requested material is prohibited by Federal Law and violators will be prosecuted by the fullest extent of the law.